In an era when digital is the norm for new recordings, on a percentage basis, LP sales are actually growing, while CD sales have diminished slightly. Concurrently, there's been a renewal of interest in both 78 rpm disks and early monaural LPs. However, prior to 1954, when the RIAA curve was adopted by the recording industry as the de facto standard, there were dozens of equalization curves in effect.

For the vintage disk collector, restoring the EQ curve that correctly matches the original recording is critical to enjoying the music as it was originally intended. While alternative settings to RIAA phono were often included in hi-fi components from the 1950s, very few exist in modern gear and none are as comprehensive as the Arthur Loesch Universal EQ Monaural Preamplifier.

The audio circuit, itself, is the same design that forms the basis for the 1.1 Control Preamplifier and 1.1 Phono Stage. However, the controls have been modified to include a single attenuator and a pair of selectable EQ switches. With 12 Turnover (Bass) and 12 Roll-Off (Treble) restoration points, a total of 144 EQ combinations are now possible.


Turnover Switch Position
Turnover Time Constant
Roll-Off Switch Position
Roll-Off Attenuation @ 10kHz
A
0Hz (Flat)
1
-0dB (Flat)
B
150Hz
2
-5dB
C
200Hz
3
-7dB
D
250Hz
4
-8dB
E
300Hz
5
-8.5dB
F
350Hz
6
-10dB
G
400Hz
7
-10.5dB
H
450Hz
8
-11dB
J
500Hz
9
-12dB
K
629Hz
10
-12.7dB
L
800Hz
11
-13.7dB
M
1000Hz
12
-16dB


In addition to the actual EQ point, each switch has a corresponding letter or number code that makes annotating your archives a breeze. For example, a record cut with the RIAA curve can be noted as "L9." Later Okeh records can be labelled "D4," Blue Notes "J7," and so on. Right now, we're working on a comprehensive guide to early EQ settings and disk speeds to ease this task.

About:



The Sound

In voicing the phono circuit, unamplified music, recorded in a live environment, rather than in a studio, was used as the primary reference. The result is a natural, well-balanced sound, with nothing added or subtracted. If the details are on the disk (or disc) and the rest of the audio system is on a par, you will easily hear nuances that were previously hidden. These include those unique, low-level cues which distinguish individual recording spaces from one another — even on 78s! The lack of a sonic signature produces a sound that's notable for its natural bass, glare-free treble, and rich, detailed midrange. Add to these assets an uncanny degree of clarity, plus "air," and you can follow every individual instrument or voice with ease. When integrated with equipment of comparable quality, the audio system simply disappears, leaving you alone with the performers, themselves. Now the only question to ask is this — are they playing in your space or are you listening in theirs?

The Circuit

Amplifying the audio signal in three gain stages, the phono circuit is suitable for any cartridge with an output of 0.25mV (or lower) to 5.0mV, moving coil or moving magnet. In some systems, lower output cartridges (less than 0.8mV) may benefit from the addition of a step-up transformer. In that case, we offer as options the economical CineMag CMQEE-3440A, as well as the dedicated Slagle step-ups.

Cartridge loading is infinitely variable via fixed-value plug-in resistors, located internally next to the phono input.



Optional RCA sockets can be added on the back panel for listeners who prefer external plug-ins.

Each stage is built with its own optimal blend of parts, available in a choice of two packages. The standard package includes parts that most manufacturers consider to be an upgrade, including REL polystyrene and polypropylene capacitors, plus PRP and Holco resistors. The Premium parts package kicks every component up a notch and includes VCap Teflon® and REL Exotica capacitors, plus "naked" Vishay and Audio Note Tantalum resistors. Hand-selected and precisely matched low-noise NOS (new old stock) American and British tubes, culled from an extensive in-house inventory, are included in both packages.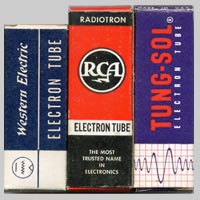 1st Stage
2nd Stage*
3rd Stage
Raytheon 5842
Western Electric 417A
RCA 6GK5
(+60dB total gain) or

Mullard 6C4
(+45dB total gain)
Tung Sol 5687
Amperex 7119
Bendix / MU 6900

Tubes in Bold Face are supplied. Those in Light Face can be substituted.
* 2nd Stage tubes are not interchangeable and need to be specified at the time of purchase.

Capacitance Multiplier Power Supply

Our new capacitance multiplier power supply without the use of op-amps or zeners. Internally shielded to isolate it from the phono circuit, it occupies the opposite side of the chassis, delivering clean, continuous voltage in a compact and economical package. It's slow turn-on protects the entire circuit and helps to extend tube life.



Specifications
Universal EQ Mono Preamplifier
Gain

+60dB Phono (6GK5 version) or
+45dB Phono (6C4 version)

Inputs

Phono In Direct
Phono Load Via External RCA Plugs (optional)

Outputs
Volume Control

24-Step Ladder Attenuator or
Slagle Autoformer

Selector Switches

Bass (Turnover Filter)
Treble (Roll-Off Filter)

Frequency Response
5Hz - 50KHz
Phono Input Impedance
Infinitely variable via plug-in resistors, internal or external
Default = 47K Ohms (supplied)
Phono Output Impedance
Zout = 3K3 Ohms (typical)
Recommended Amplifier Input Impedance
Zin = 100K Ohms (typical)
Total Harmonic Distortion
No more than 0.1%
IM Distortion
No more than 0.1%
Signal-to-Noise Ratio
Better than 87dB
Phase
Non-Inverting
External Ground Connectors
Earth Ground (AC Earth) and
Common Ground (AC Neutral)
Signal Ground
Switchable via locking toggle:

Signal to Earth (Default) or
Signal Float

AC Mains Input
120V @ 60Hz or 240V @ 50Hz, user switchable
On request, the power supply can be wired for 100V, 110V, or 220V at no extra charge.
Dimensions
16.75" Wide x 16.0" Deep x 4.5" High, including feet, excluding power supplies
(425mm Wide x 406mm Deep x 114mm High)
Net Weight
20 lbs. (9.1 kg)
Shipping Weight
27 lbs. (12.2 kg)

All features, parts, and specifications are subject to change without notice.


| Prices | Plus shipping from Saratoga Springs, New York 12866, USA |
| --- | --- |
| Availability | The Mono Preamp is in the process of being reworked. New prices and options will be posted later in 2013. |


joseph@tempoelectric.com to arrange for an audition at our Troy, New York, listening room or for an in-home audition. Certain restrictions apply.


---
Tempo Electric LLC
PO Box 770
Saratoga Springs, NY 12866-0770
USA
(518) 542-7004

---
The best time to reach us by telephone is 10AM-6PM, US Eastern Time.
If you reach our voicemail, please leave a message with the best time to return your call.
You can always contact joseph@tempoelectric.com by eMail, instead. Either way, we will try to reply within 24 hours.
---