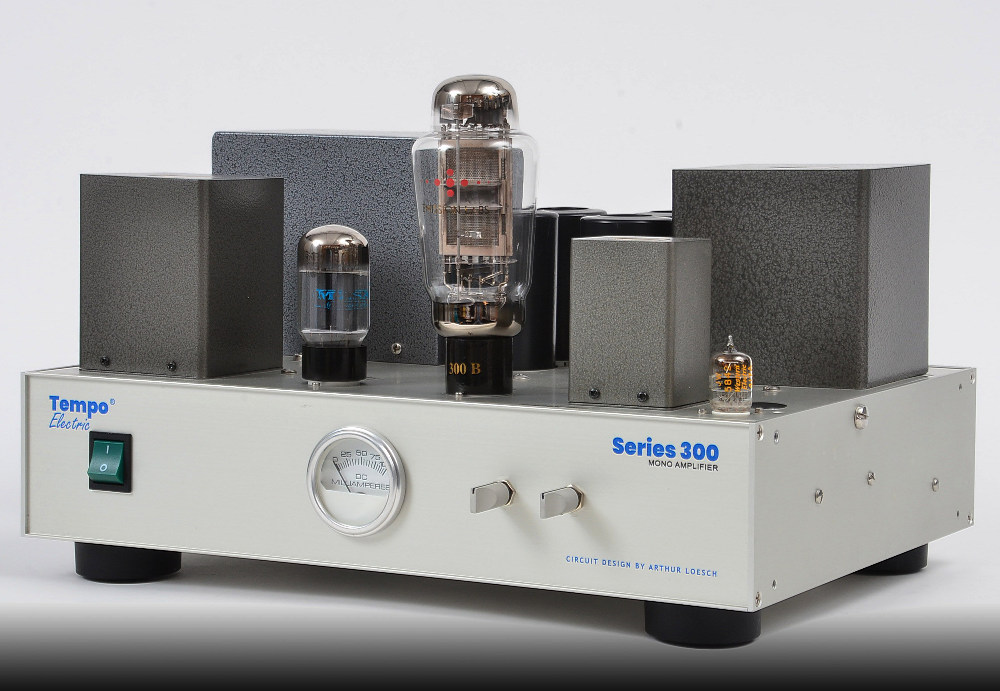 Single-Ended 300B, 2-Stage Amplifier



In the 1970s, influential Franco-Japanese audio designer Jean Hiraga declared the 300B to be "the tube of the century." During his teen years in Montreal, Dr. Arthur Loesch (pronounced "Lesh," like the Grateful Dead's Phil Lesh) studied French and later read Hiraga's original articles in Revue du Son, Revue L'Audiophile, and Nouvelle Revue du Son. In the 1980s, calling on his background as a research scientist in physics and mathematics, Dr. Loesch developed his own Single Ended triode (SET) circuit and became a major figure in its revival for home audio in North America.

In the early 2000s, working in both Dr. Loesch's basement "audio cave" in Guilderland, NY, and our own dedicated testing room in nearby Troy, NY, we collaborated for over a year to optimize his circuit using the most advanced components available. The result was the Series 300 Mono Amplifier. Today, the Series 300 Mono Amps are avaialble in a variety of configurations, all based on the 300B power tube, which was his favorite.

Possibilities include:
Single-Ended x (1) 300B (8 watts output)
Single-Ended Parallel x (2) 300B's (20 watts output)
Push-Pull x (2) 300B's (20 watts output)
2 or 3-Stages of amplification
The Sound

The Series 300 amps bring out the best in the 300B. Highs are clean and detailed; the midrange rich and vibrant; the bass solid and resonant. Sound staging is wide, deep, and three-dimensional. Overall, there's a presentation that's unusual in an all-tube design. These amplifiers produce music with the impact of a live performance, sailing through the most difficult recordings as they lift the last veil between you and the stage.

We spent hundreds of hours voicing the circuit using matched pairs of 1940s vintage Western Electric 300B's as a reference, so that every internal component compliments each other and none distracts from the overall sound. Onboard iron includes ISO (formerly Tango) output transformers, custom built Heyboer power transformers, and vinatge American filter chokes.

AC vs. DC Filament Supplies

Unlike most modern tubed amps, Loesch designs feature AC on the power tubes' filament supplies (heaters), rather than DC. Although DC on the filaments is inherently quieter, it forces the tubes to have different bias readings on each filament. This variation in the left and right filaments results in unequal plate current across the tubes and compromises their linearity. The net result is the introduction of distortion that does not exist with AC. Subjectively, AC on the filaments makes the sound more realistic.

While AC on the filaments is often criticized for amplifying the 60Hz (or 50Hz) line frequency (characterized by a faint background hum), the Series 300 amps filter out the hum by incorporating a line frequency filter just ahead of the heaters. The result is that the AC heated filaments are just as quiet as those heated by DC without DC's inherent distortion.

Western Electric UltraPath Mod

Enriching the sound even firther, the latest version incorporated the Western Electric UltraPath modification. This was a scheme first developed in the 1930s and revisied 60 years later by the late Jack Elliano of Electra-Print Audio and circuit designer Lynn Olson.

Recomended Features include:
Pure Class A Performance
Intact Audio by Dave Slagle Permalloy Output Transformers (Single-Ended)
ISO (Tango) Output Transformers (Push Pull)
Hashimoto Output Transformers (Parallel SET)
Choke Input after the rectifier
ASC Polypropylene in Oil filter capacitors
Intact Audio by Dave Slagle Permalloy Interstage Transformers
Teflon® tube sockets
Zero Negative Feedback
AC heated filament supplies
Western Electric UltraPath Mod
Secondary filter that eliminates the line hum often associated with AC filament supplies
Teflon® insulated, pure silver wire throughout the audio signal path.
Teflon® insulated, silver-plated copper wire throughout the power supply.
Teflon® Tube Sockets, made in Italy
Film capacitors throughout, including the power supply
Caddock MS Series Power Resistors
Furutech 15A IEC Teflon® Power Inlet
WBT NextGen Ag Pure Silver RCA input sockets
WBT NextGen Ag Pure Silver binding posts
Upgrades (available at additional cost):
Separate Filament Supplies
Power supplies built on separate chassis
Ladder type mono volume controls
Recommended Premium Tube Sets:
Emission Labs Classic or Mesh Plate 300B, Takatsuki TA-300B, Western Electric 300B
RCA 5U4GB or Emissional Labs 5U4 (with the EML or Takatsuki 300B)
Raytheon 6J5WGT or G.E.C. 6J5 (in the 3-Stage design)
RCA 801A or Western Electric VT-25-A (in the 3-Stage design)
Western Electric 417A (replaces the 37 and 6J5 in the 2-Stage design)
Specifications
Series 300 Mono Amplifiers
Impedance
Input = 100K Ohms
Output = 8 Ohms, plus other taps dependent on the output transformer installed
Tubes
Input (3-Stage)
6J5WGT
Driver (3-Stage)
Type 10 Family (801A, VT-25, and so on)
Input/Driver
(2-Stage)
417A
Rectifier
5U4, 5U4GB
Output (Power)
300B
Power
Class A
Plate Voltage
425V, optimized for the EML 300B Mesh.
On request, this can be increased for other 300B power tubes
Plate Dissipation
22 Watts, optimized for the EML 300B Mesh.
On request, this can be increased for other 300B power tubes
Power Output
8 Watts
Power
Consumption
81W @ 0.75A per Mono Amplifier
Power Supply
AC Mains Input
120V/60Hz for use in North America
240V/50Hz available on request.
Dimensions
Size
16.75" Wide x 12.0" Deep x 10.0" High
(425mm Wide x 305mm Deep x 254mm High)
Net Weight
45 lbs. (20.45 kg) each, 90 lbs. (40.9 kg) per pair
Shipping Weight
55 lbs. (25 kg) each, 110 lbs. [50 kg] per pair
Prices
Plus shipping from Saratoga Springs, NY 12866, USA
Amplifiers Only
Beginning at $12,000 per pair, without tubes, depending on the final configuration
Premium Tube Sets
Prices vary with the market
Fabrication
Hand-made in Troy, NY 12180, USA
Warranty
10 years, transferable, on parts and labor. 90 days on vacuum tubes. Unauthorized parts substitution or circuit modification(s) may void the warranty.
Availability
Contingent on your requirements. The exact configuration and specifications may differ from the ones illustrated.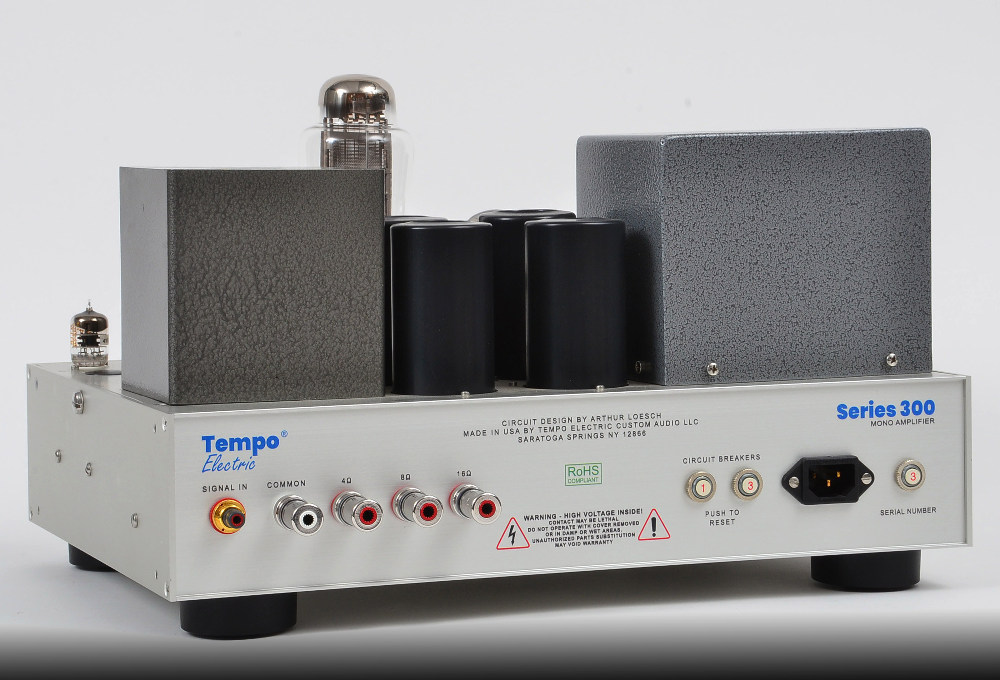 Single-Ended 300B, 2-Stage Amplifier
| | |
| --- | --- |
| Ordering | Because of the numerous choices and variables, we don't have a shopping cart. Instead we encourage you to telling us exactly what you need and where you are located (US state or country). We usually respond within 24 hours (often sooner) and will try to provide an exact quote, including shipping. |
| Payment | We accept payment via MasterCard, Visa, and Discover directly through our secure server form, as well as PayPal. |
| Shipping & Handling | Shipping from the workshop in Troy, NY 12180, USA is additional. The actual cost depends on the total weight, carrier, and destination. |
| Availability | A pair of amplifiers takes 40 hours to build. They are made to order, by hand, in our workshop in Troy, New York, USA. Lead time is typically 6 to 10 weeks from order to shipment, subject to parts availability and work orders ahead of yours. |
---
Tempo Electric LLC
PO Box 770
Saratoga Springs, NY 12866-0770
USA
+01 (518) 542-7004

---
The best time to reach us by telephone is 10AM-7PM, US Eastern Time.
If you reach our voicemail, please leave a message or send an eMail to

.
Either way, we will try to reply within 24 hours.