What's The Deal With Audio Cables?

Maybe you're like us, on a quest for the elusive sound of live music at home. Do you lie awake at night wondering if the electrons are flowing in the right direction? If the cables were broken in long enough? It's axiomatic that your audio system is only as good as its weakest link and it's the speaker cables and interconnects that link everything together.

Browse the Internet and you'll find an endless parade of audio cables. In the early days of Hi-Fi, everyone used 18 gauge lamp wire ("zip cord") and thin, gray interconnects with cheap molded plugs. That changed around 1979 when Bob Fulton introduced the first high-end speaker cables — the Fulton Brown, made from 10 gauge, rope lay, stranded, twin axial, tinned copper to reduce resistance and the conductors spaced further apart to reduce inductance and capacitance, plus the Fulton Gold, a more heavily insulated version of the Brown. At $2 and $4 per foot, respectively, when compared to lamp wire at 20¢ per foot, they were very pricey at the time. How did they sound? Reviewers agreed that they were better than 18 gauge lamp wire and after that the cable flood gates opened.

Some manufacturers make their claims based on scientific theory and exotic geometry. Others appeal to your desire to impress your friends by virtue of their impressive price tags. Since 1992, we've been fabricating our own interconnects and loudspeaker cables from single strand, high purity silver wire based on a concept pioneered by the late Harvey Rosenberg. The idea is a simple one — reduce the cables to the fewest possible elements and use the best possible materials based solely on the way they sound, not the way they measure. Our single conductor cables are an elegant solution for your audio needs, free from hype and pseudo-science. They exhibit no phase shift due to the minute time delays possible with multi-stranded designs and are non-directional. They have no break-in period and deliver clean, clear sound from the moment you install them.

Still lying awake at night obsessed with minutiae? Try our pure silver interconnects and speaker cables for yourself and if you're not satisfied, return them unblemished within 30 days for a no-hassle refund (limited restrictions apply).

Precious Metal Wire

Everything we sell or fabricate is made from extra soft temper, 99.99 ("4-nines" or 4N) pure silver or 24K gold wire which we purchase directly from a refinery located here in the USA — one that's been a leader in specialty metals processing since 1912.

In our extensive listening tests, we found that the temper (degree of hardness) is actually more important to good sound than the ultimate degree of purity. Once we tried it, it became immediately clear that the extra soft grade of silver exhibited dramatically less glare and more detail in the upper frequencies then the more commonly available regular or medium temper wire. This is the critical area of the sound spectrum which allows us, as listeners, to perceive the subtle aural cues which characterize and differentiate various performance spaces.
Oversized Jackets

How does the jacket size and configuration affect the sound of an audio signal? Curious to find out, we fabricated a pair of phono interconnects from 30 gauge silver wire that was completely bare — that is, it had no insulation at all — to establish a baseline. Of course, we couldn't twist the conductors as we normally would, but with care we were able to install the cables from the turntable to the preamplifier without shorting out the signal. Interestingly, we found that when compared with a pair of interconnects made in the usual way with the insulation applied directly to the conductors or loose wires in closely sized jackets, the uninsulated pair sounded much more open and the system projected a much larger, three dimensional sound stage. Clearly, the closer one could get to open air surrounding the conductor, the better the sound.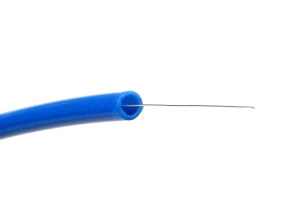 However, the uninsulated interconnects picked-up noise from the turntable motor, which we never heard before. Often cured by twisting the wires, it's impossible to do this without any covering. After more trials, we febricated interconnects with 30 gauge silver wires installed inside 8 gauge Teflon tubing. It turned out that the oversized Teflon jacket mimicked the qualities that we liked with the naked wires (more air and a better sound stage), while retaining the insulating properties of a traditional jacket.

While the effect was more noticeable with interconnects and somewhat less with loudspeaker cables, based on these experiments we now assemble of all of our cables with oversized, flexible Teflon tubing. For the DIYer on a budget, the more economical, similar-size Teflon jacket, as well as bare wire, is still available.

A Few Reviews of Our Cables and Interconnects

One of our clients, Gerry E of Rocky Hill, CT, wrote an unsolicited a review of our cables and posted it on the Audio Asylum website. Click here to read it.

DIY builder Thor Jensen of Denmark also reviewed a set of DIY interconnects that he assembled with materials that he purchased from us. Read his article here.

Read Jeff Daly's assessment of the Big Twist Aurum Ag, gold + silver hybrid interconnect, from Issue 63 of Positive Feedback.


---

Follow the links below to go directly to the individual cable product pages.


---
30 Day, Risk-Free Trial

Try any of the fabricated interconnects or speaker cables at home for 30 days. Make a full evaluation in your own system, at your own convenience, without the pressures of time or sales personnel. If you're not completely satisfied with the improvement, return them in their original condition for a full refund. Certain restrictions apply. Sorry, there are no refunds or returns for DIY cut goods, other than very long coils in original condition.


---
Tempo Electric Custom Audio LLC
PO Box 770
Saratoga Springs, NY 12866-0770
USA
+01 (518) 542-7004

---
The best time to reach us by telephone is 10AM-7PM, US Eastern Time.
If you reach our voicemail, please leave a message or send an eMail to

.
Either way, we will try to reply within 24 hours.