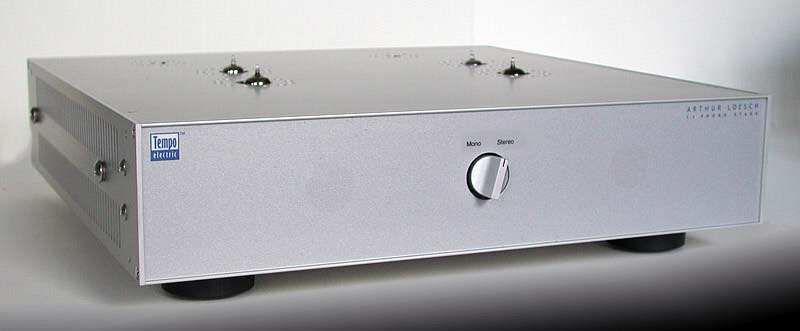 The 1.1 Phono Stage has been discontinued. This page is being left up for reference purposes.



The stand alone Arthur Loesch 1.1 Phono Stage takes the RIAA circuit from the 1.1 Full-Function Control Preamplifier and strips away the volume controls and extra inputs. It's intended for use with an external line stage, either passive or solid state. Alternatively, a pair of mono volume controls can be installed and the output signal run directly into the power amplifier, eliminating the need for the line stage altogether. And, if your amplifier already incorporates level controls, the need for extra attenuators is completely eliminated, as well. We do not recommend running the signal into an active, tubed line stage.



Rated "Class A" by Stereophile

In the October, 2010, and April, 2011, issues of Stereophile, the Full-Function Phono Preamplifier was rated "Class A," it's highest level of approval. Class A is defined as the "Best attainable sound for a component of its kind, almost without practical considerations; ' the least musical compromise.' " Of his time with the unit, writer Art Dudley said that "the 1.1 produces the voices and instruments of good stereo recordings with believable scale and physicality."

Featured Component in Bound-For-Sound

The Full Function Phono Preamplifier is the subject of a two-part article in the December, 2009, and March, 2011, issues of the Bound For Sound Report.

Click here to download the full review.



Read more about:



The Sound

In voicing the phono circuit, unamplified music, recorded in a live environment, rather than in a studio, was used as the primary reference. The result is a natural, well-balanced sound, with nothing added or subtracted. If the details are on the disk (or disc) and the rest of the audio system is on a par, you will easily hear nuances that were previously hidden. These include those unique, low-level cues which distinguish individual recording spaces from one another. The lack of a sonic signature produces a sound that's notable for its natural bass, glare-free treble, and rich, detailed midrange. Add to these assets an uncanny degree of clarity, plus "air," and you can follow every individual instrument or voice with ease. When integrated with equipment of comparable quality, the audio system simply disappears, leaving you alone with the performers, themselves. Now the only question to ask is this — are they playing in your space or are you listening in theirs?

The Circuit

Amplifying the audio signal in three gain stages, the phono circuit is suitable for any cartridge with an output of 0.25mV (or lower) to 5.0mV, moving coil or moving magnet. In some systems, lower output cartridges (less than 0.8mV) may benefit from the addition of a step-up transformer. In that case, we offer as options the economical CineMag CMQEE-3440A, as well as the dedicated Slagle step-ups.


Left and right channels are built on a pair of identical boards, mounted side-by-side for true dual-mono operation. Cartridge loading is infinitely variable via fixed-value plug-in resistors, located internally next to the phono input.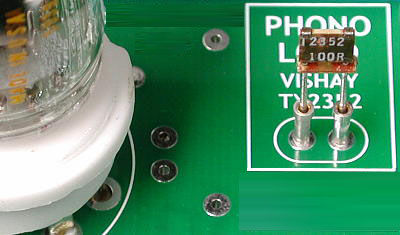 Optional RCA sockets can be added on the back panel for listeners who prefer external plug-ins.

Each stage is built with its own optimal blend of parts, many of which are normally considered to be upgrades. These include VCap Teflon® capacitors, "naked" Vishay Resistors, WBT NextGen RCA sockets, and extra soft temper, pure silver wire. Hand-selected and precisely matched low-noise NOS (new old stock) American and British tubes, culled from an extensive in-house inventory, are standard.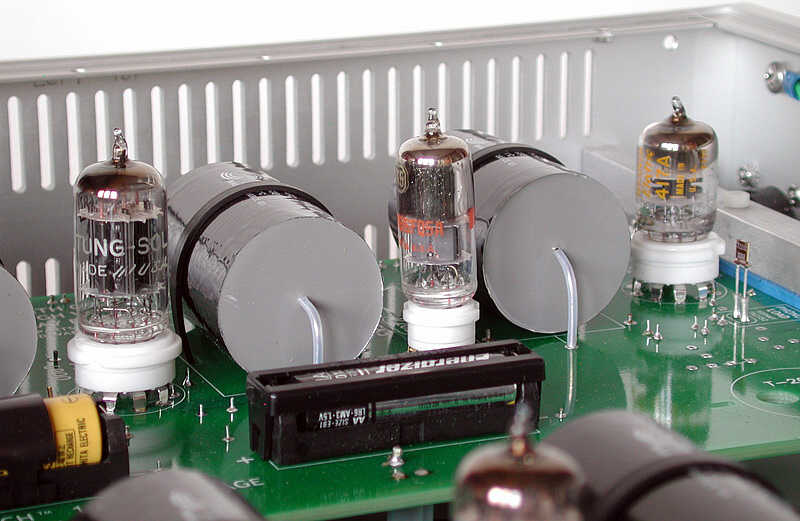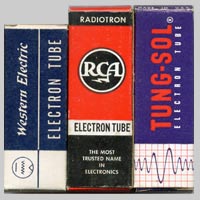 1st Stage
2nd Stage
3rd Stage
Raytheon 5842
Western Electric 417A
RCA 6GK5
Tung Sol 5687

Tubes in Bold Face are supplied. Those in Light Face can be substituted.

A new feature is the adjustable bias control. By changing the bias (plate voltage) of the first stage tube (5842/417A), listeners can tailor the sound to match their system in a range from High Bias (Warm), Medium Bias (Neutral), or Low Bias (Cool).



The 1201B+ Power Supply

Based on a design originally developed for military and laboratory test equipment, the 1201B+ Power Supply is a separate tube regulated unit that's been updated and optimized for high-end audio. User adjustable for 120V or 240V worldwide operation, it's housed in a chassis that's completely separate from the audio section in order to provide optimum shielding for low noise operation. An illuminated meter and 10-turn trimpot allow the user to precisely adjust the output voltage, while circuit breakers mounted on the front panel do away with fuses. The power supply is connected to the audio stage by a heavy duty umbilical which is available in lengths from 2 feet (0.6 meters) to 8 feet (2.4 meters). In addition, a second power supply can be added at any time for complete dual-mono operation. This has the advantage of increasing overall dynamics and bass response, especially in phono mode. An IEC inlet allows the use of an upgraded AC power cord on each supply.




Click here or on the photo for complete power supply information and specs.



Specifications
1.1 Control Preamplifier
Net Gain

+60dB Phono (6GK5) or
+48dB Phono (6C4)
+18dB Active Line Stage

Inputs
WBT NextGen RCA Sockets:

Phono In Direct
Phono In Via Step-Up Transformer (optional)
Phono Load Via External RCA Plugs (optional)

Outputs
WBT NextGen RCA Sockets:
Selector Switch
Mono / Stereo (optional)
Frequency Response
20Hz - 50KHz
Phono Input Impedance
Infinitely variable via plug-in resistors, internal or external
Default = 47K Ohms (supplied)
Phono Output Impedance
Zout = 3K3 Ohms (typical)
Recommended Amplifier Input Impedance
Zin = 100K Ohms (typical)
Total Harmonic Distortion
No more than 0.1%
IM Distortion
No more than 0.1%
Signal-to-Noise Ratio
Better than 87dB
Phase
Non-Inverting
External Ground Connectors
Earth Ground (AC Earth) and
Common Ground (AC Neutral)
Signal Ground
Switchable via locking toggle:

Signal to Earth (Default) or
Signal Float

AC Mains Input
120V @ 60Hz or 240V @ 50Hz, user switchable
On request, the power supply can be wired for 100V, 110V, or 220V at no extra charge.
Dimensions
16.75" Wide x 16.0" Deep x 4.5" High, including feet, excluding power supplies
(425mm Wide x 406mm Deep x 114mm High)
Net Weight
Audio Stage: 14 lbs. (6.4 kg)
Power Supply: 25 lbs. (11.3 kg) each
Shipping Weight
Audio Stage: 19 lbs. (8.6 kg)
Power Supply: 29 lbs. (13.2 kg) each

All features, parts, and specifications are subject to change without notice.




In addition, the Phono Stage can be purchased as the Full-Function 1.1 Control Preamplifier with these features:
1 Phono circuit, 1 Active line circuit, and 2 Passive Line inputs, plus Mute
Dual-Mono Ladder Volume + Balance Controls
Prices, Basic Unit
Plus shipping from Saratoga Springs, New York 12866, USA
1.1 Phono Stage with Single Power Supply
$5,500
This is a complete unit, ready to play.
Options and Upgrades
Want to max out the Loesch circuit design? On a 1-100 scale, the following options will push the basic unit (above) from a 95 to a 100. Most of the improvement comes from the additional power supply, which will raise performance to a 98. To reach 100, add the Western Electric 417A and the CS custom power cords.
Add a Second Power Supply
+$2,500 for full Dual-Mono operation.
Audio stages are pre-wired for Dual-Mono power supplies and do not have to be returned for this upgrade.
Upgrade the 1st Stage Tubes to WE417A
+$250/Matched Pair of extra quiet NOS Western Electric 417A tubes
Add a pair of built-in
Sowter 9570
Step-Up Transformers
+$625
Includes an additional pair of WBT NextGen Cu copper RCA sockets, plus a pair of TX2352 ("Naked" Vishay) loading resistors.
Add a pair of resistor-base, ladder-type step-attenuators
+$600
These volume controls have an attenuation range of 0dB to -62dB in 24 steps.
Add a pair of Slagle Autoformer Modules
+$800
This upgrade package includes a pair of Slagle Autoformer modules and provides attenuation from +1.25dB to -41.25 dB in 32 steps.
Add a pair of Slagle Autoformer Volume Controls (AVC)
+$2,200
This upgrade package includes a pair of 28-step Slagle Autoformers and two Shallco switches. It provides attenuation from 0dB to -52dB in 2dB steps.
Purchase additional Phono Load Resistors
+$32/1% pair of TX2352 ("Naked" Vishay) resistors in any value from 1 Ohm to 200,000 Ohms, including fractional values
Upgrade the RCA Sockets
Upgrade the WBT NextGen Cu Copper sockets to WBT NextGen Ag Fine Silver sockets. +$44/Pair

There are two pairs on the Phono Stage. Installing the Step-Up Transformers adds a third pair. The silver sockets are recommended for listeners who use silver wire interconnects and speaker cables.

Upgrade the Power Cord
Upgrade the standard 14 Gauge shielded power cord to our 12 Gauge double-Teflon® insulated, CS Power Cord, featuring WattGate Audio Grade terminations.
+$250/6 feet, +$10 each additional foot, per power supply
Customization
Add different inputs, curves, or other custom features.
Quotations on request.
Warranty

10 Years (transferable) on all parts and labor, with the exception of
90 Days on tubes

Unauthorized parts substitution may void Warranty
Availability
No longer available.

Tempo Electric LLC
PO Box 770
Saratoga Springs, NY 12866-0770
USA
+01 (518) 542-7004

---
The best time to reach us by telephone is 10AM-7PM, US Eastern Time.
If you reach our voicemail, please leave a message or send an eMail to

.
Either way, we will try to reply within 24 hours.