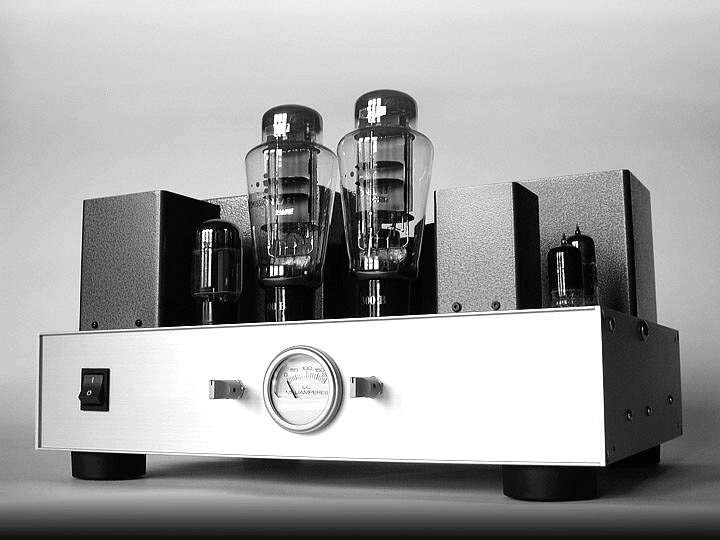 A revised version of the 302 Mono Amplifier is available again as part of the Series 300 Mono Amplifier collection. This page is being left up for reference purposes.



Since the late 1980s, Dr. Arthur Loesch has been a major figure in the revival of the Single-Ended Triode (SET) amplifier for home audio use.

The Model 302 Mono Amplifier features a pair of power output tubes, either 300B or type 50, transformer coupled in parallel. The filament voltage for the 300B and 50 power tubes can be switched externally, making them interchangeable with the flip of a switch. Designed for loudspeakers with a minimum efficiency of 91dB/1m, installing either power tube will easily drive your speakers to satisfactory SPL levels in most listening rooms.

Sonically, the Model 302 redefines the sound of the 300B, for which it's primarily designed. Highs are clear, detailed and undistorted; the midrange is full, rich, and vibrant; and the bass is bold and deep, with an impact usually attributed to solid state equipment. Sound staging is wide, deep, and three-dimensional. These amplifiers present music with the snap and timing of a live performance, sailing through the most difficult recordings, as they lift the last veil between you and the stage.


A pair of toggle switches change the filament voltage to allow the use of type 50 output tubes (not included).
Features include:
Tango AC, Output, Interstage and DC Filter Transformers
Transformer coupling throughout the audio section, with no capacitors directly in the signal path
Available for either 100V, 120V, or 240V worldwide operation
Zero Negative Feedback
Pure Class A Performance
Teflon® insulated, pure silver wire throughout the audio signal path.
Teflon® insulated, silver-plated copper wire throughout the power supply.
Teflon® and Polypropylene Capacitors throughout (no electrolytics)
Caddock MS Series Power Resistors
Furutech 15A IEC Teflon® Power Inlet
Shielded, 14 Gauge Quail detachable power cord included
Optional 12 Gauge, double-Teflon® insulated, CS Power Cord available as an upgrade
Soundcare® SuperSpikesTM for increased isolation from airborne and mechanical feedback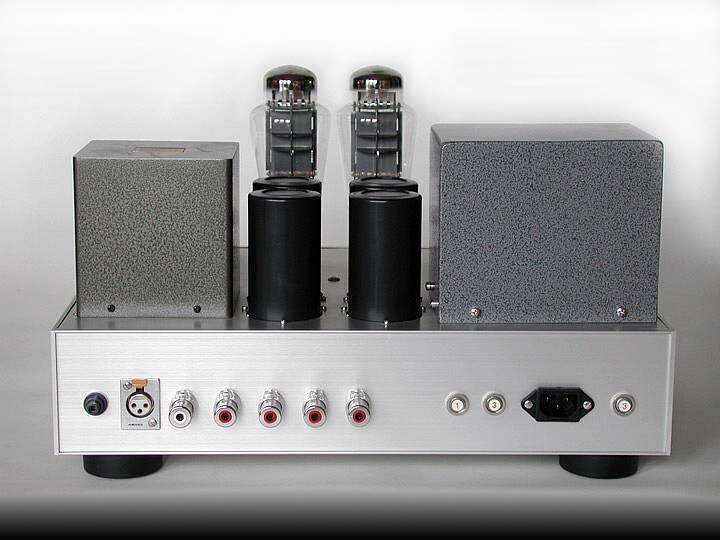 Rear Plate: WBT NextGen RCA single-ended and Furutech balanced inputs, WBT Top Line binding posts for Common, 4, 6, 8, and 16 Ohm taps (WBT NextGen Ag available as an upgrade), DC and AC circuit breakers, and 15 Amp Furutech IEC power inlet, machined from solid Teflon.®


Specifications
Model 302 mono Amplifier
Impedance
Input = 100K Ohms
Output = 4, 6, 8, 16 Ohms
Tubes
Input
12AU7 / ECC82
Driver
6350
Rectifier
5AR4 / GZ34
Output
300B x 2 or 50 x 2
Power
(Pure Class A)
Plate Voltage
380 Watts
Plate Current
60mA per tube (120mA total)
Plate Dissipation
22.8 Watts (Auto Bias)
Filament Voltage
5.0V @ 1.5A (300B)
7.5V @ 1.5A (50)
300B x 2
20 Watts per Mono Amp
50 x 2
8 Watts per Mono Amp
Power
Consumption
112 Watts @ 1.10 Amps per Mono Amp
Power Supply
AC Mains Input
100V, 120V, or 240V (all fixed)
Dimensions
Size
16.75" Wide x 12.0" Deep x 10.0" High
(425mm Wide x 305mm Deep x 254mm High)
Net Weight
45 lbs. (20.45 kg) each
Prices
Plus shipping from Saratoga Springs, NY, 12866 USA
Amplifiers Only
$12,500 per pair, without tubes
Premium 300B Tube Package
+$1950 per pair of amplifiers, including new Emission Labs 300B Mesh Plates (two pair), NOS Sylvania (Philips ECG) 5AR4, NOS Black Glass Tung Sol 12AU7, and NOS Sylvania 6350
Tube prices may vary subject to availability.
Power Cord Upgrade
Upgrade the standard 14 Gauge shielded power cord to our 12 Gauge double-Teflon® insulated, CS Power Cord, featuring WattGate Audio Grade terminations.
+$250/6 feet, +$10 each additional foot, per amplifier
Availability
Available as part of the Series 300 Mono Amplifier Collection.

Tempo Electric LLC
PO Box 770
Saratoga Springs, NY 12866-0770
USA
+01 (518) 542-7004

---
The best time to reach us by telephone is 10AM-7PM, US Eastern Time.
If you reach our voicemail, please leave a message or send an eMail to

.
Either way, we will try to reply within 24 hours.